One of the most common landscaping requests we have in the Los Angeles area is to remove grass and create a more drought tolerant landscape with drip irrigation.  At this La Crescenta residence we removed the grass in both the front and backyard to create a highly attract conservation-oriented garden design.
Here is the view of the small backyard in which the grass was browned out and then removed.
Then, a perimeter was created with Mexican pebble stone.  Patio pavers were installed.  The client placed her own pots after completion.
For the front yard, grass covered most of the yard up to the front curb.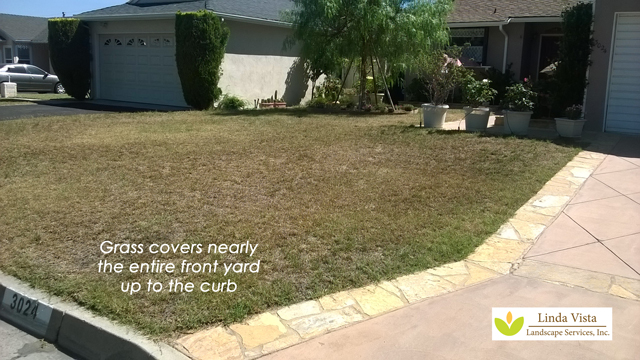 The grass was removed and the front yard was redesigned to include drought-tolerant plants. Areas were divided up to make planters, which were heavily mulched to retain moisture. A new automatic drip system was installed to water the new plants. And the walkways were covered with decomposed granite. The result: lower cost on the watering, easy to maintain, pretty to look at, pollinators love the more native approach, and a happy customer!